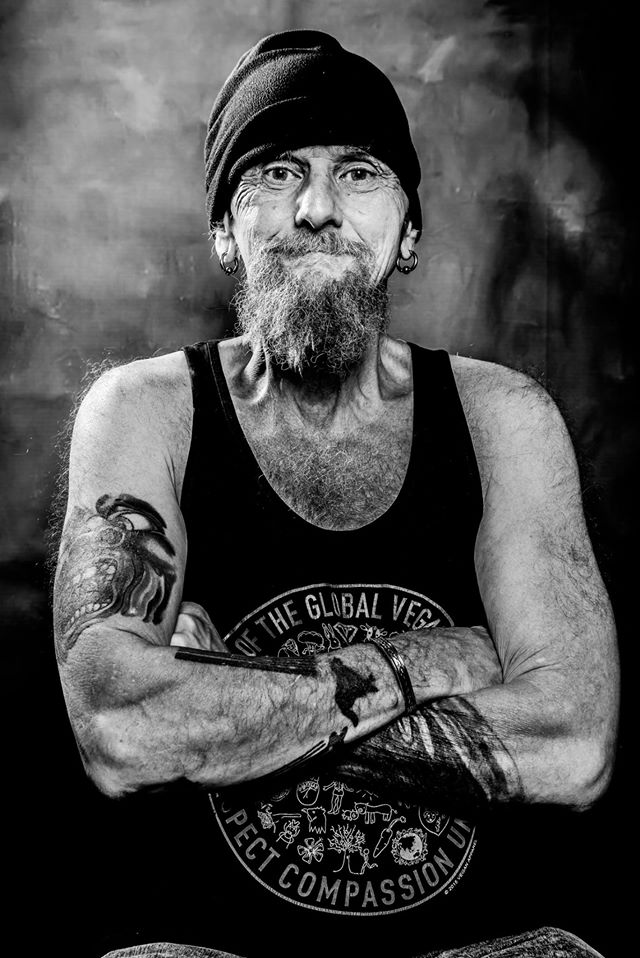 Overcoming Adversity Through Adventure

The day I was born Manchester United beat Manchester City; which was a sign of the turmoil to come. I'm the eldest of three boys born to our care worker mother and gardener father; your typical loving family living on a Manchester council estate in the sixties. I never took school seriously and loved playing football. I was a bit of a flower power hippy with long blonde hair and psychedelic shirts. I pictured school as a forced indoctrination and wasn't prepared to work or do any homework and so came out of school with only two GCSEs.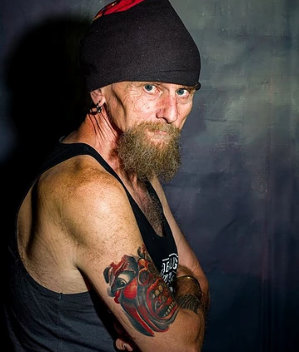 My earliest memories are of my mother reading us stories about animals and at the age of five, I refused to eat my animal friends, from that moment on I was the only vegetarian in my family. As I grew into my twenties, I became a DJ playing rock and psychedelic music, I wasn't a big druggy, but I liked a beer and was a cheeky flirt and very popular with the girls. Despite my cocksure Mancunian exterior, I was always seeking real and eternal love.
From Mancunian Hippy to World Traveler
I had my heart broken twice in Manchester, which gave me the push to go and see the world. My first port of call was Singapore. The heat of the sun-kissed my Mancunian flesh and warmed my adventurous mind. I loved it, I wasn't in cold and rainy Manchester anymore. I was in an exotic country eating vegetarian food not off plates, but off banana leaves. I couldn't believe it.
Love, Loss, and a Wandering Heart
I traveled to various places and particularly enjoyed religious buildings where I could sit silently and contemplate the meaning of life. A welcome escape from my tormenting mind. After four months of intrepid escapades in jungles, on tropical islands and mystical mountains, I returned to rainy old Manchester in England. I struggled to adapt back to glum grey drizzly days in the north of England and a few months later was teaching English in Bangkok, Thailand. I met a Thai girl and almost immediately she became pregnant. Nine months later she gave birth to Eric Jay. We stayed together for a while, but the relationship was doomed. We split up but remained friends.
In the mid-nineties, I got a job working in a sugar factory in north-eastern Thailand. Eric jay moved in with me. My first taste of life as a single dad. Each weekend father and son would bond as we explored towns and national parks. Adventure always ran through my veins. Once again, I fell madly in love with an attractive Thai lady and after a whirlwind romance got married. We had two children; Eugene and Francesca. Eric Jay had returned to live with his mum, but I kept in touch and I visited him whenever the opportunity arose.
We moved to China in 1998 and I started work as a primary school teacher before opening my own education business. Alas, my wife left in October 2000 taking Francesca with her. I was heartbroken but focused on my son. I stopped working and had a one-year adventure around the wildest parts of China with Eugene who was just three-years-old. We had a fabulous time before returning to the UK in October 2001.
As you can guess I couldn't settle in the UK so just over a year later Eugene and I flew to Asia for further adventures. I once again fell head over heels in love. This time with a Lao lady. We married in 2008 and nine months later she gave birth to my fourth child; a baby boy named Jo. I had a well-paid job and had bought a house and a car. We were living the dream. We had so many adventures together. I had hit the jackpot; I had found what I was looking for; the perfect location and the perfect partner. It was December 2011. Welcome to paradise.
A Life of Unexpected Challenges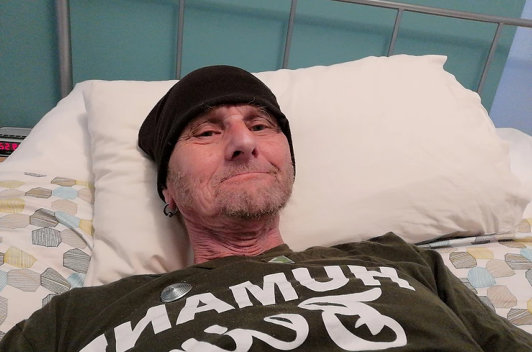 In January 2012 I woke up feeling like I'd been hit in the face with a spade, my glands were swollen, and I could barely move my jaw. After various tests and scans, the doctors confirmed that I had a huge tumor in my throat and face. We immediately packed up and headed to the UK. After a biopsy in Blackpool, I was told that I had stage 4 throat cancer and was given less than 6 months to live. I was pumped with chemotherapy to prolong my life, but my body rejected the chemo and I ended up in an isolation ward. I couldn't have any more chemo because it would kill me. In a last desperate effort to remain in the land of the living, I undertook an agonising six-week session of radiotherapy. I was warned that it would be the most painful ordeal of my life and had only a one in five chance of extending my life. At the end of the treatment, I was a burnt and blistered bag of bones with open wounds weeping yellow pus. I never knew pain like that even existed.
Shortly after this, my dear mother died. My world was falling apart. From paradise to hell in a matter of months. Surely things couldn't get any worse. Then Satan looked at me with the big red eyes and laughed, "You ain't seen nothing yet!"
My darling wife who I loved more than you or she could ever imagine screamed, "I don't love you. You are so ugly. Hurry up and die Ghost face." She then had an affair and would return home after her afternoon of sin and mock me as she boasted about her new fit and healthy lover. I was dying a double death; terminal cancer and a broken heart. Believe me, the broken heart was far more painful. Each night while I was alone on my sick sofa, I would visit dark suicide sites trying to discover a painless method of doing myself in. Only the deep love for my children kept me in the land of the living.
My wife eventually abandoned me, leaving me alone fighting for my life while caring for my two young children aged 14 and four. I was a skeleton with a broken mind, but I fought with everything I had. I went raw vegan, drinking organic fruit juices and swallowing a concoction of herbs, minerals, and vitamins. I refused to die; my children needed me. They had no one else except their destroyed old man.
A Fighter's Return and a New Beginning
In November 2017, I got the all-clear. The oncologist was astonished that I had beaten cancer. I informed him that I went raw vegan and avoided all processed food. It was a miracle. I cannot say what saved me, but I believe my healthy diet and my 'never say die spirit' played a major part.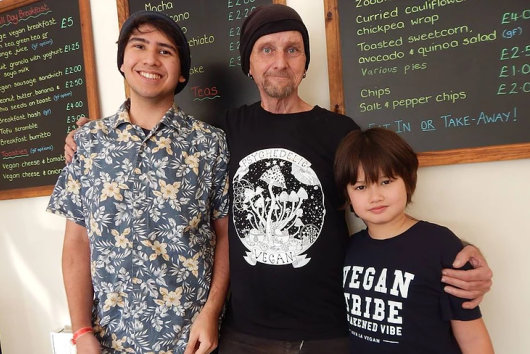 I now faced a hand to mouth existence on benefits. I had nothing. My wife had the house and everything else I had spent years working for. It just didn't seem fair that I and the kids should be struggling to make ends meet. So, I decided to write a book. The Death and Life of Psycho Syd were finally published in October 2019 and over 2000 copies have been sold already. All five-star reviews on Amazon too. Unbelievable isn't it. Me, a council estate nobody is a published author with rave reviews.
From the Darkest Depths to New Light
So, let my harrowing journey inspire you to believe that the impossible is always possible. Never give in and understand everything changes. You must travel through the darkness to eventually dance in the light at the end of the tunnel. Just to let you know that my children are happy. Eugene is in the final year at university and Jo is finishing off primary school. Oh, and by the way, we have a new member to the family. Alfie a gorgeous rescue staffy is our loyal companion. He is a very good boy; just like his dad.
Links: